Joshua Fields Millburn's favorite albums from the past twelve months.
Joshua Fields Millburn · Follow: Facebook, Twitter, Instagram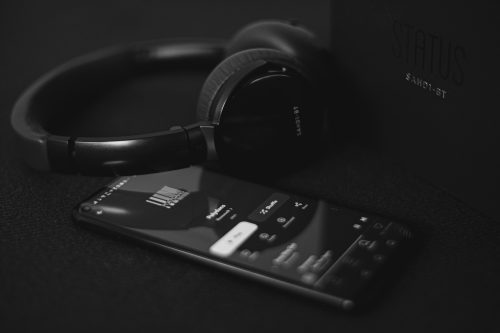 Ryan and I started The Minimalists a dozen years ago, and each year since I've catalogued my favorite albums of the past twelve months. Here are my favorites from 2022.
1. Kendrick Lamar, Mr. Morale & the Big Steppers. If you were to draw a Venn diagram consisting of the German spiritual teacher Eckhart Tolle and the South Florida rapper Kodak Black (both of whom are featured on this project), the overlapping section would contain the Kendrick Lamar who created this high-art masterpiece. Throughout this double album, we see Kendrick attempt to cling to his ego as it slips beautifully through his hands, revealing a newfound freedom that is unencumbered by materialism or spiritualism. Favorite lyric: too many to name, but here are some lines worth cherishing:
2. Matt Nathanson, Boston Accent. Nathanson caught the singer-songwriter bug during the pandemic and used that time to create a record that proves, once again, he is one of the greatest songwriters of his generation. Favorite lyric (from "Blush"): "I could have powered the city every time that you kissed me." (Note: You can listen to The Minimalists' most recent conversation with Matt here.)
3. Drake & 21 Savage, Her Loss. After two strikes in a row, Drake connects with 21 Savage for a home run. Simple production mixed with complex emotions produce an album with maximum replay value. While you won't be blanketed by profundity with this project, there are several noteworthy bars (from "Spin Bout U"): "Damn, just turned on the news and seen that men who never got pussy in school are makin' laws about what women can do." And after a handful of listens, even the cheesy pickup lines—"Eight words when I think about us is: 'fuck me, fuck me, fuck me, fuck me'"—will have you singing along and bobbing your head in agreement.
4. Jensen McRae, Are You Happy Now? The poetic grit of a young woman searching for her place in the world. Minimalist and heartbreaking, this LP will penetrate all the way down to your bone marrow if you let it. Favorite lyric (from "Happy Girl"): "I took the years like a pill / So I'm supposed to be cured / Lost weight and smiled for the camera / What a happy girl … Know you wanted a happy girl / I can lie if I cannot learn how to become a happy girl / I can act like a happy, happy girl."
5. Canyon City, Dear Earth, Love, Moon. The truth whispers briskly over acoustic guitars and piano chords on this soothing seven-song effort. Favorite lyric (from "Stardust"): "You are you / No matter where you go / You might just learn to like it / Truth stands like a mountain / Even if nobody climbs / To the view."
6. Vory, Lost Souls. A bitter man harmonizes his regrets and doubts over sparse, brooding soundscapes on his debut album. Favorite lyric (from "Lesson Learned"): "Trauma got me scared to get attached, baby / I fell out of love, then fell back, baby … Too deep in my mind, hard to rest lately / If I was you, I wouldn't waste your time trying to save me / Girl, you got my soul on fire."
7. The Midnight, Heroes. A time machine pulls the best of the nostalgic 80s into the 2020s to create an album of upbeat songs that sound so familiar you just might sing along on the first listen. Favorite lyric (from "Heartbeat"): "If the world is made out of love / Then the pain is proof that it isn't done / When you're empty, you can use me up / You won't run out; there is love enough."
8. Olafur Arnalds, some kind of peace – piano reworks. Quiet but powerful crossover classical music—the calming soundtrack to an early-morning drive through the fog. Although there are few lyrics on this project, one heartrending line on stood out (from "The Bottom Line"): "Cut it all open inside / Curl yourself up and cry / Cry your bones dry."
9. Fridayy, Lost in Melody. Throw all categorization out the window for this vulnerable project. At seven songs, is it a debut album, an EP, or a mixed tape? And don't even try to label it with a genre: Is it R&B? Soul? Gangster Gospel? Whatever it is, it's worth listening to. Favorite lyric (from "Know the Truth"): "I was chasing my dreams on a empty stomach / I was standing in VIP while my rent was due / I was sneaking backstage with the stars while my shit was growling / I ain't eat nothin' all day, just some bread and jelly … Just know my momma and them, they countin' on me, ya know? / Everybody back home keep sayin' that they proud of me, how? / Only if they knew that I ain't have a dime on me."
10. Whatever the Weather, Whatever the Weather. The electronic musician Loraine James picks up her pseudonym, "Whatever the Weather," and weaves together a series of ambient instrumentals—often creamy and calm, at times spiky and serrated—that match different temperatures on your thermometer ("14°C," "0°C," "25°C").
11. DVSN, Working on My Karma. A risky departure for my favorite soulful duo, who traded the alt–R&B of their previous two records for bedroom-heavy 90s-era Rhythm & Blues—a dozen tracks about jealousy, cheating, and remorse. Favorite lyric (from "Daniel's Interlude"): "Did I ever tell you 'bout the person that ruined me? / And that's probably the reason you feel like you're not gettin' through to me / Before I learned to fuck, yeah, I learned about sex with her / Never cheated, was faithful and honest / I wasted my best with her."
12. Gunna, Drip Season 4Ever. Immaturity and the hidden insecurity of the ego has never been as fun as it is on this drippy rap album. Of course, one does not listen to an album like this for the lyrics; you listen for the vibes, of which there are plenty ("pushin P," "P power," and "25k jacket" all stand out). The record does, however, take a serious turn for precisely one track ("livin wild") when Gunna admits that his overindulgent lifestyle is catching up to him: "I just left the hospital, might need another liver / Kidney failures, I tell you this shit couldn't be no realer."
Honorable Mentions: Tove Lo, Caroline Loveglow, Nas, Dean Lewis, William Fitzsimmons, Smino, Hatchie, Tai Verdes, Kodak Black, YoungBoy NBA, Taylor Swift, Kid Cudi, Tory Lanez, Zach Bryan, EST Gee, Death Cab for Cutie, JID, The Smile, Larry June, The Game, Maggie Rogers, Kevin Gates, Jack Harlow, Future, Ben Rector, Ken Yates, Aaron Weits, Pinegrove, 070 Shake, Jack Johnson, Wet Leg, Donovan Woods, The Lumineers, Lil Baby.
What was your favorite this year? Let me know on Twitter or IG.
Listen to the playlist in full on Spotify or Apple Music.
For my favorite albums from past years, visit our blog.
–JFM
Download our 16 rules for living with less in this beautifully designed ebook.